Betty Stevens Frecknall Scholarship
Learn More

See these pages for more details about the Foundation's activities:
How to Apply
Applications for the 2023-2024 academic year were accepted between January - May 2023. Please return any time during that same period in 2024 if you are interested in applying for this prestigious scholarship for 2024-2025.
About Betty Stevens Frecknall
Betty Stevens-Frecknall began her career in computers as a cardpunch operator. She trained in the 1940's as a keypunch clerk, a computer repair technician, and a systems analyst. Starting as a civilian employee of the Navy in Seattle, Betty was soon recruited to a position at Long Beach. Following this, she obtained a position as a systems analyst with the Department of Housing and Urban Development. From this point on, Betty proved herself with a series of successes on major projects, saving the taxpayers millions of dollars and gaining a promotion with each success.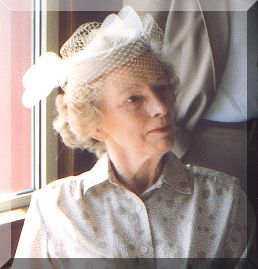 During these years, Betty was very active in the Washington D.C. Chapter of DPMA (now known as AITP), serving as chapter president in 1972. She was committed to developing the chapter and increasing membership, especially among women. She later was active on the Mid-Atlantic Region (Region XI) of DPMA and was elected Region president in 1979. Betty also served as the president of her Toastmasters chapter, and was very active in recruiting new members into that organization. Betty retired at a level of GS14 as manager of a large programmer group responsible for major projects within the HUD information systems infrastructure--all with just a high school education.
One of very few women in a strongly male-dominated field, Betty was an advocate of equal opportunity and access to career advancement for all qualified workers. One of Betty's professional and later personal friends was Grace Hopper, the legendary "Mother of Computing". They shared a razor sharp wit and a passion for knowledge, excellence, gender equality, and education.
Betty was a strong advocate of self-improvement through education. Betty was always taking classes, and a favorite saying of hers was "Learn or die--and when you stop learning you start dying." She put herself through her computer training, then put her husband through the same course of study. Both went on to become successful computer analysts. She encouraged her children and stepchildren to pursue higher education, and was always generous in helping them to achieve their educational dreams. Another favorite saying of Betty's was "If you don't watch out, you might learn something."
---
Eligibility Criteria
Applicants must meet all of the following criteria:

A declared computer science/CIS/MIS/IT major with an overall and major GPA of at least 3.0 on a 4.0 scale (or equivalent)
A student who has satisfactorily completed at least one full semester of college (12 semester hours or equivalent)
Enrolled as a full-time (12 semester hours or equivalent) undergraduate student at an accredited institution in the United States
A US Citizen or US Permanent Resident
---
Previous Recipients
2000-2001

| | | |
| --- | --- | --- |
| Ninon Crane | | Macon State College (GA) |
| Dustin Demmin | | University of Wisconsin - Whitewater (WI) |
| Tracey Pounds | | Texas State Technical College - Sweetwater (TX) |
| Brad Sibley | | University of Southern Mississippi (MS) |

2001-2002

| | | |
| --- | --- | --- |
| Jonathan Bishop | | The University of Mississippi (MS) |
| Ntoh Etta | | The University of Wisconsin - Whitewater (WI) |
| Tanyi Fouching | | The University of Wisconsin - Whitewater (WI) |
| Louise Manning | | Oklahoma Baptist University (OK) |

2002-2003

Christopher Atkinson
DeVry Institute (MO)
Mindy Columbus
Robert Morris University (PA)
Xueqian Chen
Michigan Technological University (MI)
Matt Fontaine
Purdue University (IN)
Melany Howard
Chattahoochee Technical College (GA)
Galina Ivanova
The University of Alaska - Anchorage (AK)
Terry Kidd
The University of Houston (TX)
Maxim Sorokoletov
The University of Alaska - Anchorage (AK)
(See press release)

2003-2004

James Mottola
Devry Institute - Tinley Park (IL)
Usman Uddin
The University of Mississippi (MS)
Theresa Webb
Lindenwood University (MO)
(See press release)

2004-2005

Rhonda L. Steele
University of Alabama (AL)
Jenny Lee Browne
Mesa Community College (AZ)
(See press release)

2005-2006

Andrew Gohl
Linfield College (OR)
Tracy Leeper
Northwestern State University (LA)
Leslie White
Central Connecticut State University (CT)
Sheree Ferguson
Oakland Community College (MI)
(See press release)

2006-2007

Tracy Jessie
University of Oklahoma (OK)
Vicki Baugh
Community College of Southern Nevada (NV)
Kelly McGrath
Texas State Technical College - Abilene (TX)
(See press release)

2007-2008

Rica Gaines
Charter College (AK))
Jamie Schroeder
ITT Technical Institute, Nashville (TN)
Jenna Nisbett
Texas State University (TX)
(See press release)

2008-2009

Robert Paul
Midwestern State University (TX))
Sharon Anderson
The Catholic University of America (DC)
Fernando Martinez
ITT Tech, Mesa (AZ)
(See press release)

2009-2010

Carice Poston
University of Dayton (OH))
Frank Walker
Bellevue University (NE)
(See press release)

2010-2011

David Christo
Loyola University Maryland (MD)
Rachelle Hademenos
ITT Technical Institute, Houston (TX)
Pallavi Laxane
Texas Tech University (TX)
(See press release)

2011-2012

Kakia Brock
University of Phoenix (AZ)
Monica Santa
Kaplan University, Ft. Lauderdale (FL)
(See press release)

2012-2013

| | | |
| --- | --- | --- |
| Alexander Leonhard | | Quinnipac University (CT) |
| William Parks | | Oklahoma Panhandle State University (OK) |

2013-2014

| | | |
| --- | --- | --- |
| Cheryl Kay Books | | Fox Valley Technical College (WI) |
| Anthony Reynolds | | Blackhawk Technical College (WI) |

2014-2015

| | | |
| --- | --- | --- |
| Mary Elizabeth Ulam | | Texas State University (TX) |
| Joey Kilmartin | | Murray State University (KY) |
| Jessica Pearce | | University of Texas, Arlington (TX) |

2015-2016

| | | |
| --- | --- | --- |
| Quanda Moore | | ITT Technical Institute |
| Jarel Landis | | Malone University (OH) |
| Jeremy Beachy | | DeVry University |

2016-2017

| | | |
| --- | --- | --- |
| Madilyn Rider | | Oklahoma Panhandle State University (OK) |
| Albert Appouh | | Rutgers, The State University of New Jersey (NJ) |
| Mignon Kramp | | Laguna College of Art and Design (CA) |