Learn More

See these pages for more details about the Foundation's activities:
How to Apply
Applications for the 2022-2023 academic year are now closed. Scholarship awards will be made by October 1, 2022. Applications for 2023-2024 will be accepted between January - May 2023. Please return any time during that period if you are interested in applying for a scholarship.
About Kevin Jetton
Kevin Jetton, CDP, has provided dedicated and energetic service to AITP for many years, serving as President of his local chapter, his region, and as the national President of AITP. Since 1996, he has been the driving force behind the AITP National Collegiate Conference. As a result of his generous service, thousands of AITP student members and professional members have enjoyed numerous opportunities for meaningful personal/professional growth.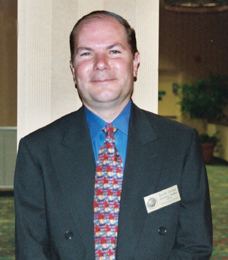 In 2003, several members of AITP joined together with local chapters and the AITP Education Special Interest Group (EDSIG) to establish the Kevin Jetton Service Scholarship. The scholarship is intended to recognize outstanding service to fellow IT professionals through leadership and volunteer activity (including leadership roles in AITP student chapters).



---
Eligibility Criteria
To be eligible, applicants must meet all of the following criteria::

A declared computer science/CIS/MIS/IT major with an overall and major GPA of at least 3.0 on a 4.0 scale (or equivalent)
A student who has satisfactorily completed at least one full semester of college (12 semester hours or equivalent)
Enrolled as a full-time (12 semester hours or equivalent) undergraduate student at an accredited institution in the United States
A US Citizen or US Permanent Resident
---
Previous Recipients
2004-2005
2005-2006
2006-2007
2007-2008

Jenna Nisbett
Texas State University (TX)
Jamie Schroeder
ITT Technical Institute, Nashville (TN)
Pavan Yenna
Texas A&M International University (TX)
(See press release)

2008-2009

Cindy Blount
University of Phoenix, Hendersonville (NC)
Sarah Callen
Polk State College, Lakeland Campus (FL)
(See press release)

2009-2010
2010-2011

Patrick Sager
Ball State University (IN)
Chantal Wilson-Lawrence
Grambling State University (LA)
(See press release)

2011-2012
2012-2013

| | | |
| --- | --- | --- |
| Chloe Lockard | | James Madison University (VA) |

2013-2014

| | | |
| --- | --- | --- |
| Karly Holland | | University of Iowa (IA) |

2014-2015

| | | |
| --- | --- | --- |
| Patricia Lehman | | Wilmington University (DE) |

2015-2016

| | | |
| --- | --- | --- |
| Jaleel Savoy | | Northern Illinois University (IL) |

2016-2017

| | | |
| --- | --- | --- |
| Matthew Dillon | | King University (TN) |